Home » Things to See and Do
Things to See and Do in Duncan, Arizona
The biggest little town in the fertile Upper Gila Valley, and the last stop before the New Mexico border on the Old West Highway, Duncan goes about its business much as it did in the first years of the 20th century, blending Mexican, Latter Day Saints, Arkansas pioneer and other cultures. The beautiful Gila River winds through it, with windswept, walkable levees overlooking its course, guarded on all sides by mountains laden with secret back roads, waterfalls, abandoned mines and exotic wildlife. Duncan is free of the hustle and bustle of city life, a place where the traffic is light, the air is fresh, the sky is big, and people welcome visitors with warm interest.

Eleven Reasons to Visit Duncan, Arizona
Places like Duncan are increasingly rare. It is an authentic small Western town with real cowboys and cowgirls, charming small businesses, back roads to explore in the mountains or along the river, and no commercial tourism.
Have a stroll along the Gila River at sunset. Every winter, for four months, you can watch sandhill cranes making their noisy flight downstream for the night (their evening destination is a local mystery). Golden eagles are frequently seen, bald eagles on rare occasion. Including migrants, we have documented 215 bird species. And sometimes you can see javelina or beaver.
This is not an exaggeration: some visitors say that Humble Pie's pizza is the best they've ever had. We recently hosted some world travelers who said that Humble Pie's calzone was better than any they had in Italy.
Hilda's Kitchen serves delicious Mexican-American grill in one of the most welcoming atmospheres you'll ever find. And you can pick up supplies in the adjacent store.
The Ranch House complements its excellent steaks with seafood dishes and a salad bar; they also have a small bar, and they feature owner Karla Ellis's beautiful Western paintings. Monday evening "Taco Night" is a Duncan institution.
For those who imbibe, the Riverfront is an old-style tavern full of friendly folks.
Country Chic, where local crafters and artists display their work, is also the Duncan Visitor Center and well worth a sit-down visit.
Rock-a-Buy Rocks & Gifts features both local and exotic rock specimens, and a whimsical collection of crocheted and beaded items. Owner Doug Barlow can arrange guided rock-hounding trips in the area too.
Meander through Germaine's Emporium's rooms and out-buildings, teeming with antiques, vintage and new toys, dishes, greeting cards, and many kinds of Western memorabilia. You can also pick up your pet and livestock care supplies and peruse Quinton's gun room.
Duncan's Public Library has an exceptional collection of books on Western history, including the local histories featured elsewhere in this website. You can also purchase there a DVD of the Empie family's home movies from the mid-20th century, which document the exuberant lives of Duncanites on street corners, at parades and at the county fairgrounds.
The legendary Western artist and cartoonist Hal Empie served as Duncan's pharmacist in the mid-20th century. Of the hundreds of works he created in that time, perhaps the most impressive is his 6' x 30' stretched-canvass mural "Greenlee," which hangs permanently in the Duncan High School cafeteria overlooking the school's playing fields. The cafeteria is open to visitors during school hours.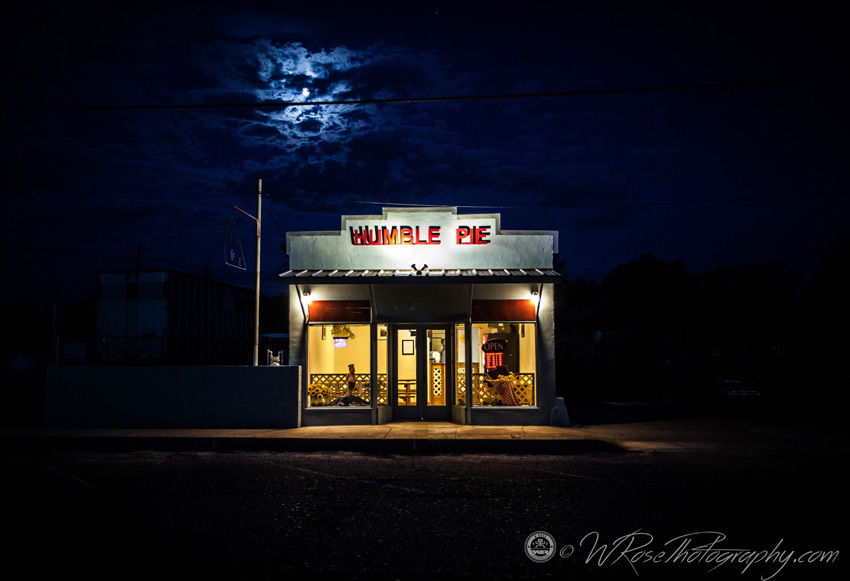 ☞ Read the Arizona Highways profile of Humble Pie